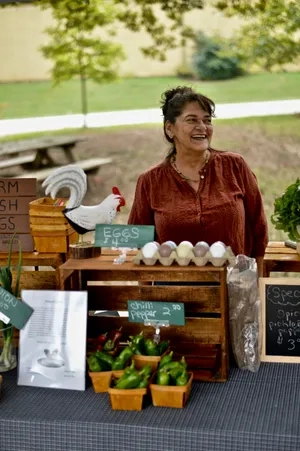 At Wholesome Wave Georgia, we are grateful to serve a critical role in Georgia's local food economy. Through partnerships with 77 farmers markets, farm stands, and retail locations across the state, we make fresh, local fruits and vegetables affordable to all Georgians by matching food stamps — also known as SNAP/EBT — on local food purchases. That means spending $10 of SNAP means $20 worth of fresh, local produce.
One of our partners in Marigold Market, near Athens, Ga. Recently, the Athens Banner-Herald wrote a great article about Marigold Market, including our partnership and impact.
But Marigold Market, which opened in early April for the 2022 season, is part of something bigger.

Marigold Market partners with Wholesome Wave Georgia, an Atlanta-based nonprofit working to combat food insecurity, childhood and adult obesity, and diet-related illnesses by bringing fresh produce into communities through its Georgia Fresh for Less program.

"It's really exciting that more people are coming since we started. It's fun to talk to everyone," said Engelsen, standing behind her booth of veggies on the second Saturday of October, before the market closed in December for the year.

The program matches SNAP benefits so families can spend double on healthy food, said Alex Duncan, manager of the Georgia Fresh for Less program. It incentivizes families to explore healthier options at farmers markets and produce stands.

Duncan has spent seven years working in food systems and joined the Wholesome Wave Georgia team in August 2020 at the height of the COVID-19 pandemic. She said the opportunity to have a positive impact on the food system and provide choice to the community drew her to the program.

"This work feels meaningful and impactful every day," she said.

Despite supply chain challenges and an increased number of Georgians relying on support during the COVID-19 pandemic, Duncan has worked to expand the Georgia Fresh for Less program, targeting northeast and south Georgia. When looking for markets to include in the group's network, Duncan said she looks for two things.

The program looks for markets selling a majority of SNAP-eligible items, such as fruits and vegetables, and those selling produce vendors grow themselves to "ensure that we are reinvesting into Georgia's local economies," Duncan said.

According to Wholesome Wave's 2020 annual report, the most recent data available, 68 local farms, farmers markets and community health care providers were Fresh for Less partners. That year, the organization reported seeing a 56% increase in the number of families doubling their SNAP benefits.
We are grateful to partners like Marigold Market to help us do this work. To read the full article, visit Athens Banner Herald here.
Click here to learn more about Georgia Fresh for Less, or if you need assistance enrolling in SNAP/EBT, click here.