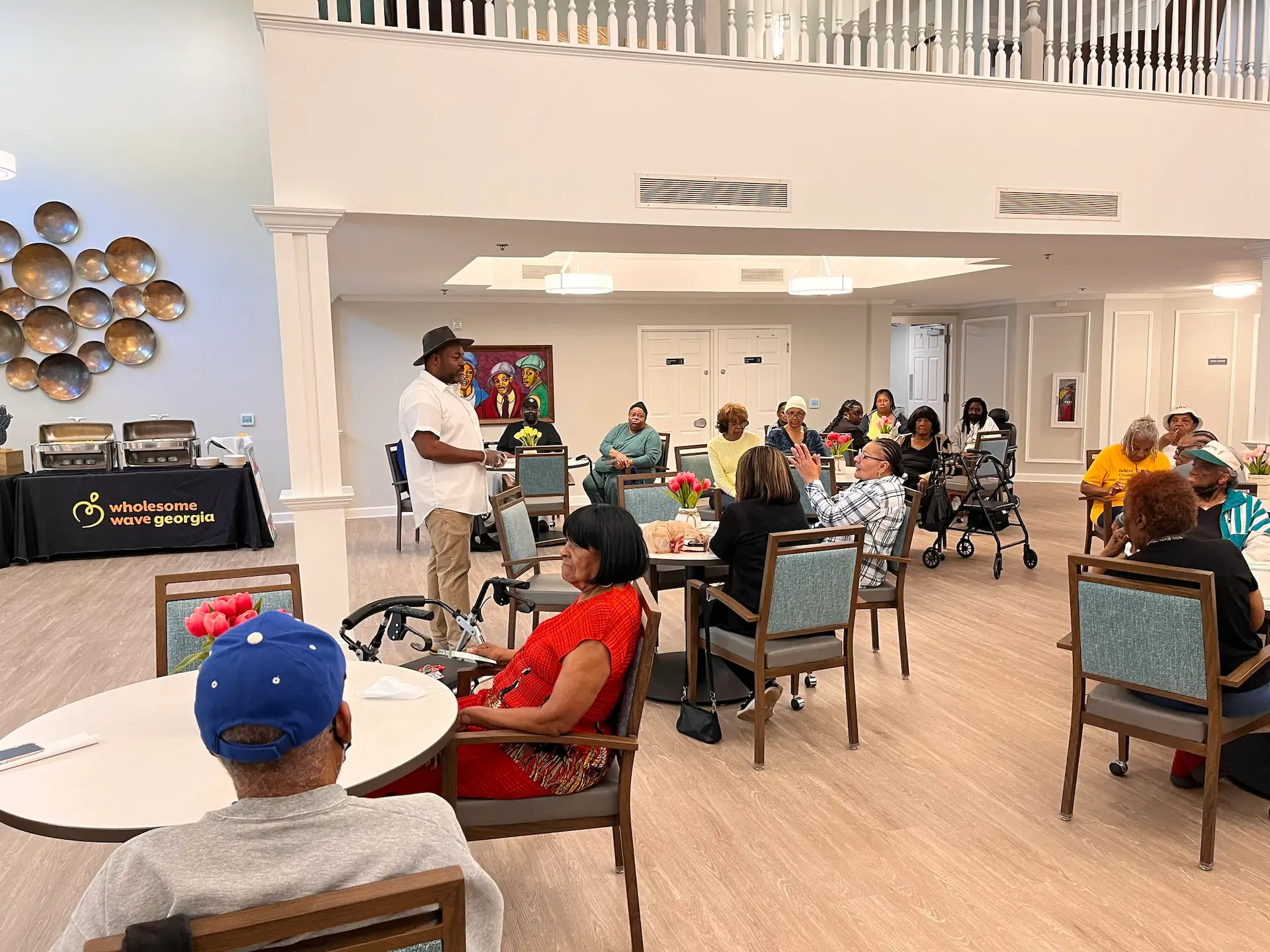 by Amanda Newsom
Since Wholesome Wave Georgia's inception in 2009, we've made incredible progress growing our partnerships to offer access to locally grown food to people across our state. As we embark on the next chapter in our organization's growth, we're eager to serve one of our most vulnerable populations which also happens to be a significant percentage of eligible SNAP recipients (i.e. people using food stamps): older adults.
Food-insecure older adults face barriers to accessing fresh, healthy food because of low fixed incomes, lack of transportation, health conditions, and high healthcare expenses. In turn, they must often make unthinkable choices like choosing between food and prescriptions or postponing medical care, and they face the grim reality of skipping meals or running out of food altogether. Food insecurity among older adults has also been linked with malnutrition, depression, physical functioning limitations, diminished cognitive function, and chronic health outcomes like diabetes, cardiovascular diseases, and obesity.
These challenges were exacerbated by the COVID-19 pandemic, and older adults are among those who have continued to experience significant increases in food insecurity and social isolation. That's why we're focusing more on projects that bring services directly to apartment communities that cater to aging residents.
Last year our beloved Community Ambassador Mike Rouse began outreach to older adult apartment communities within the City of Atlanta in anticipation of bringing local farm vendors directly to their community centers in the form of mobile markets to offer their residents locally grown produce, healthy cooking demonstrations, and socialization opportunities.
As we worked to develop a project plan for meeting their needs, we met a representative from National Church Residences at Plywood People's ATL Ideas: Food Security panel discussion which felt kismet. As one of the largest networks of older adult communities with 14 locations in the Atlanta area, National Church Residences felt like a natural partnership.
They recommended we start our work at their Big Bethel Village community in Southwest Atlanta, so Mike followed up with their property manager and hosted an introductory Taco Night soon after. During this trial programming, he began building relationships with their residents and facilitating authentic community engagement to determine their needs and wants in order to serve them in a meaningful way. Mike gained direct insight on how we can offer them affordable, accessible services: they expressed interest in having a mobile market on a consistent schedule and in a common space to avoid transportation concerns as well as having more group events since many of them live alone. One resident asked, "Can we have more cooking events like today? It was nice having people together. Most times, we have to leave the building to attend programs."
We also wanted to meet with the community's director and property manager to learn about their challenges and resources, then we met with our farm partner, Aluma Farm, and educational chef, Chef Kevin McGee of the Urban Oak Initiative, to find out what programming support they could offer. It's critical that we involve every stakeholder of a project into our planning process from the very beginning to set it up for success.
After these initial conversations and Taco Night, Mike scheduled a chef demonstration with Chef Kev and his assistant KC where residents came to learn how to cook plant-based meatloaf with greens, kale and potatoes grown by Aluma Farm. The meal was well received by the residents who enjoyed trying a new dish and learning the benefits of eating locally grown vegetables to reduce their sugar and sodium intake as well as meat alternatives for those who are unable to digest meat. This event also provided a free meal for legacy residents dependent on subsidized apartments in the community.
Our next step is a meet and greet event with Aluma Farm to further showcase their produce offerings and to introduce their farmers before scheduling upcoming mobile markets. The idea is for the residents to use what they're learned about cooking healthy meals with fresh, seasonal produce to inform their shopping habits which will bring all of these introductory events full circle. Residents using SNAP/EBT benefits will also be able to purchase fruits and vegetables for half off at the mobile markets, so the locally grown produce will not only be easily accessible but also more affordable.
We're taking an intentional approach on this project to introduce fresh, healthy eating habits and are looking forward to using what we've learned to continue fostering our partnership with National Church Residences. Together, we can increase nutrition access for older adults across the City of Atlanta and throughout Georgia.
If you'd like to support our expansion efforts, click here to donate today. Your support makes this work possible!