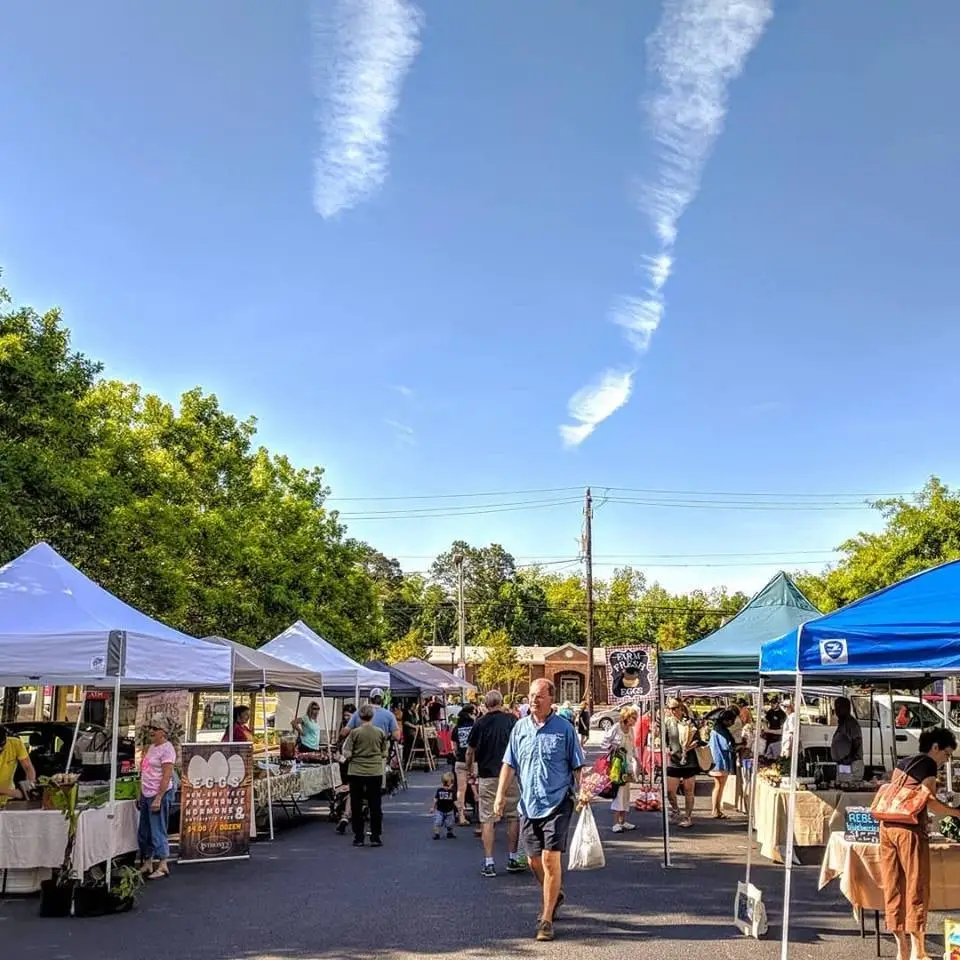 You can experience magic in a farmers' markets' gorgeous rainbow of produce, succulent pasture raised meats, flowers, baked goods, ready made meals, and more. The true magic though, is to be found in the human connection and the abundance cultivated in the food community. Wholesome Wave Georgia annually celebrates these relationships with its Judith Winfrey Leadership and Innovation Award.
The award recognizes an outstanding individual for their leadership and innovation as a Farmers' Market Manager in Georgia. The recipient of this award is passionate about their work with the market as both a leader and a member of the community, always listening and responding to the needs of customers, vendors, and community partners. This award is named for Judith Winfrey, co-founder of Wholesome Wave Georgia, who saw the need and acted on the opportunity to connect families, farmers, and organizations to build a stronger local food community.
We are delighted to introduce the 2021 recipients, co-managers of the Statesboro Main Street Farmers' Market, Michele Giddens and Relinda Walker.
About twenty years ago, Michele sought to provide healthier foods to her young daughter, which inspired a visit to her local farmers market. There, Relinda "…introduced me to local, organic food. What was so wonderful is that she had more interesting foods," said Michele, such as purple beans. "We called them Magic Beans because they turned green as you watched them cook."
Relinda explains, "I was a founding vendor for both the Statesboro Farmers Market and the Forsyth market in Savannah." Having lived up north for many years, she became "…interested in food and the food movement, and I came back to Georgia." In 2002 she began an organic farm on her father's land, and pretty soon she was selling not only at markets, but to chefs and restaurants.
"It was a great period of my life, and part of that was being connected to other farmers and people in the food movement," said Relinda. She offered workshops for Georgia Organics in south Georgia, utilizing a grant they provided, and eventually she served on their board. "During this whole thing I was connected to Judith [Winfrey] and Joe [Reynolds] because they were part of that same scene in different roles."
Local farms and farmers' markets came to be deeply personal to Michele. "Meditating over the years on our food supply – how we get our food, how it's grown – it just doesn't seem there is anything better than to connect to the farmer. Fresh, local, seasonal – I know exactly how it's grown."
Michele came to work with the Statesboro Main Street Farmers Market in about 2013, eventually managing the online Market2Go component.
Relinda was invited to be the Saturday Market market manager in 2018, a position from which she recently retired. "It was declining, and [they] wanted to see if I could revitalize it. Michele and I worked very closely as partners to get vendors to do both markets and that customers were aware of both. We tried to strengthen that connection, and now when most people talk about the market they mean both."
"Market2Go used to be very small before COVID," explains Michele. "We were lucky to have it in existence already," as the pandemic shut down the Saturday market. Michele and Relinda reimagined it into a big drive through. "It took a few trials and errors! It was so popular that we'll probably have to keep the drive through after Covid."
"I give Michele a lot of the credit," says Relinda. "She is somebody who perseveres. Whatever trials there are, she is just going to keep plowing through. She inspired me a lot during this process. I think we were a great partnership. We have different skill sets and personalities, but we really mesh as a team."
Likewise, Michele treasures her bond with Relinda. "We worked four or five years together. I cherish her friendship."
Along with important community partnerships, the Georgia Fresh for Less program was a critical element of rebuilding the market and succeeding through the pandemic. With the help of Wholesome Wave Georgia, they reestablished a long lost ability for customers who use SNAP benefits to pay using EBT.
Relinda notes that "Michele worked hard to make sure that people were taking full advantage of those bonus dollars. She would email them to say, 'Thank you for your order. You will be charged this much and you have this much credit so you can go back and order some more fruits and vegetables."
"I don't think a market should exist without reaching out to the underserved and improving access for everybody in the community," says Relinda. "That was an important part of my mission when I joined the market, and something that Michele and I shared and worked on together. We really worked hand in hand with Wholesome Wave. Everybody there has been so good to work with and so supportive. We had everything in place when the pandemic occurred!"
Wholesome Wave Georgia "…epitomizes what is important about a market," Relinda enthuses. "What they are doing [to feed the underserved] is what we need to be doing with food."
Michele agrees. "It has been a very positive experience."
When asked about winning the award, both women clearly felt humbled.
"Judith spent her whole life working to get local, healthy food into people." Michele says quietly. "It's a great honor to be considered" worthy of a recognition named for her.
Relinda affirms this sentiment. "I consider Judith a friend. When they told me about the award, I was excited that we had won it! I was really delighted that we here in south Georgia had gotten this kind of recognition, but particularly because it was named for Judith. She is someone I have always admired for having so many different and significant roles in the good food movement."
Michele and Relinda wax eloquent when asked what this award means to them.
Michele states, "I see that food has this commonality, this power to bring everyone with different backgrounds, different walks of life – just to bring people together, with all sorts of views and opinions. And they talk about how to grow it, or customers asking 'What do we do with this?' It builds our communities and builds relationships with your farmers and neighbors. Seeing the power of food to bring people together has been amazing for me to watch over the years."
"I'm really proud," says Relinda. "I've done a lot of things in my life. I loved my years as an organic farmer. But I also find this work in managing the market and revitalizing it, helping to reform it to handle this pandemic – this is some of the most satisfying work that I have done."
Just like Judith Winfrey herself, Michele and Relinda overflow with the abundance, possibilities, and joys that spring from sharing good food.
Prior award winners:
2015: Jan Kozak
2016: Sissie Lang, East Point Farmers Market
2017: Teri Schell
2018: Jodi Daley, International City Farmers Market
2019: Wande Okonuren-Meadows, Little Lions Farmstand
2020:  Jordan Crabb, Market on Madison
2021: Relinda Walker & Michele Giddens, Statesboro Main Street Farmers Market