REAL STORIES OF GEORGIANS IMPACTED BY FOOD INSECURITY AND WWG
David Weiner
Carollton, Georgia
Fresh For Less Participant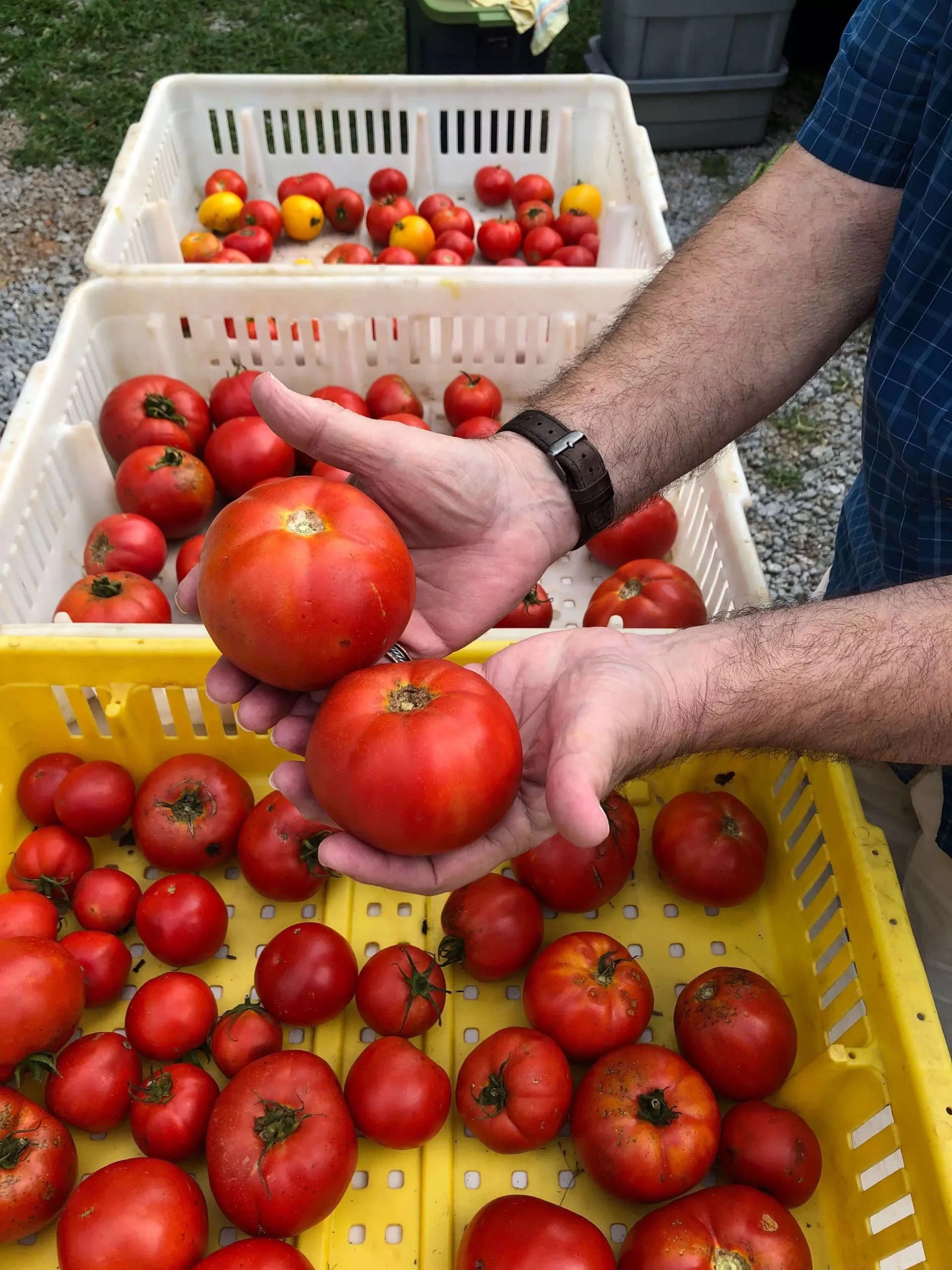 David Weiner purchasing double the amount of local tomatoes with Georgia Fresh For Less at Cotton Mill Farmers Market.
Just call David Weiner the expert on all things bugs. He was a founding member of the Integrative Pest Management Committee for the state of New York and worked as an insect control specialist for over 30 years. Through this work, he recognized the impact of pesticide use on environmental and human health. "We have a direct effect on the environment," he says, "and we can change it for good or ill."
Since retiring, David has used his voice and experience for the former; as a Master Gardener, he helps educate the community about Georgia pollinators and the importance of insects in gardening and food production. It is his personal mission to turn people into citizen scientists and help people understand the consequences of their lifestyle choices.
When it comes to the food he is consuming, David prefers eating organically because he knows there will be less pesticide residue than conventionally-grown products. The farmers market is important because he can get the produce he wants while getting to know the farmers at the same time.
However, a fixed income and chronic health conditions have become a larger concern for David over the past year. When he moved earlier this year, David's income was severely reduced and he had to be much more careful of how he spent money.
Also, like many senior citizens, diet has become a crucial part in managing two chronic diseases, including Type 2 Diabetes. Through the Fresh For Less program, David has found that matching SNAP, or Supplemental Nutrition Assistance Program, dollars "gives people who would normally not have access to fresh vegetables or organic vegetables" opportunities to purchase these items.
Whereas a few months ago he was surviving off of prepared foods, now he makes stir fries with the tomatoes and summer squash he purchases at the market. To David, the Georgia Fresh For Less program has "removed the excuse of 'I don't have the money for fresh food' because I do."
Every Saturday, David visits with the farmers at Cotton Mill Farmers Market who have now become friends. "I need Krager Hager and the Dennis' to survive to feed my body and soul," he says.
David hopes that the market only continues to grow and more people recognize the importance of the market for their community. "The more we know people, the more likely we are to look out for them," David emphasizes.
In the meantime, David will continue being a strong presence in the community, teaching his Junior Master Gardeners, cheering on kids in the Cotton Mill Farmers Market's annual Zucchini 500 race, and always lending his voice to advocate for SNAP.
The story was contributed by Marisa Kanemitsu.
MORE STORIES
CLICK EACH IMAGE TO UNCOVER THE STORY OF A GEORGIAN EXPERIENCING FOOD INSECURITY
GET THE LATEST NEWS
Subscribe to our Fresh Food Press to receive resources and updates about the local food movement.