REAL STORIES OF GEORGIANS IMPACTED BY FOOD INSECURITY AND WWG
DIAMOND CHAMERBERLAIN
Macon, Georgia
Fresh For Less Participant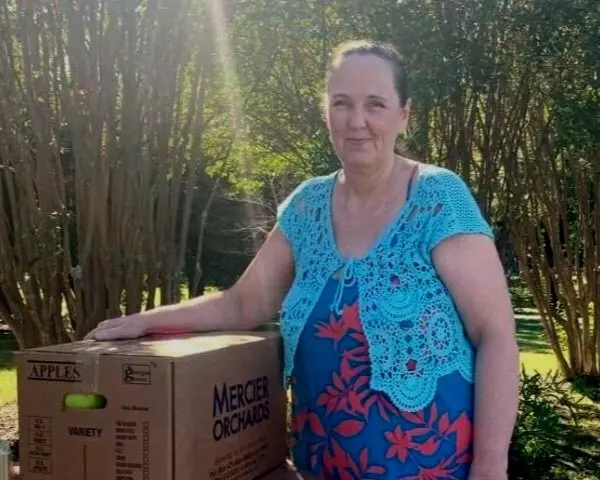 Diamond Chamberlain with her box of Gala apples at Mulberry Market.
If you ever find yourself walking through Mulberry Market in Macon, Georgia on a sunny Wednesday morning, you will find vendors selling everything from fresh herbs to blueberries. You will also come across Diamond, hunting down the perfect bushel of Gala apples.
A SNAP recipient and mother, Diamond has been going to Mulberry Market for the last nine years.
Through the Fresh For Less program, she can eat healthy without concern for cost by swiping her EBT card for two times the amount of fresh fruits and vegetables at the farmers market than she would normally receive at the grocery store.
"I like [Fresh For Less] because 16 dollars will make 32 dollars at the market and you know exactly where the produce comes from," she says.
Diamond believes that the Georgia Fresh For Less program saved her life. As a single mother, she used to work two or three jobs trying to make ends meet. She did not have the time or the resources to prioritize healthy eating.
"I'd just make Hamburger Helpers, spaghetti, or Pop-tarts for me and my kids. Whatever is at the grocery store is what you get. You don't think about all that [health] stuff; you're just trying to survive," she recounts.
That all changed when Diamond was diagnosed with congestive heart failure in 2012: "[The diagnosis] opened my eyes that you can be here one moment and gone the next. I decided I needed to do better health wise."
Diamond has fond memories of her grandmother's citrus trees and vegetable garden growing up. "Every weekend, we would come over and she'd always have three cherry pies made. She would joke that she made one for me to eat there, one for me to take home, and one for everyone else!"
Her desire to adopt a healthier lifestyle inspired Diamond to become an avid gardener herself. "I started bringing veggies to my [doctors] appointments and they all really enjoyed my produce. That helped my confidence and I soon realized that I can do this — growing my own food, eating healthy — it's all doable. I even lost 30 pounds!"  
In addition to gardening, Diamond credits the Georgia Fresh For Less program and tight knit community at Mulberry Market for helping her on her path to better nutrition. She makes a point to try to visit the farmers market every Wednesday, rain or shine, in order to engage with her peers who share her passion for sustainable food.
She is especially appreciative of the market manager Lacey Resch because of the personal connections she makes with all of her patrons.
"Lacey really makes the market. She's not afraid to give you a hug, she'll ask how you're doing, and I'm proud to call her my friend!" Diamond exclaims.
When Diamond's son, who lives with Asperger's Syndrome, came to the market, Lacey took notice of his love for Gala apples and now goes out of her way to remind Diamond when the next batch of apples will be available for pick up.
"To look at my son, you would never know he has Asperger's. I told Lacey last year, if you know anything about kids and adults with autism, they are very particular with food and clothing. In my son's case, he loves his Gala apples like nothing else," Diamond explains. "When I told my son about the box of apples Lacey first gave me, he got off his computer — which is incredible — and ran out to the car to grab the full bushel of apples."
Overall, Diamond has faced a lot of adversity in her life, but thanks to the nutritious food she now has access to from the farmers market and her garden, Diamond is excited for the years to come.
"One day a lightbulb went off in my head: at 51 years old, I have to enjoy the life that I live. I eat healthy so that I can stay alive to continue to see my family. I even get to see my eight grandchildren grow up!"
The next time you're at Mulberry Market, make sure to say hello to Diamond, and ask her about her apple pies!
The story was contributed by Alyssa Milton.
MORE STORIES
CLICK EACH IMAGE TO UNCOVER THE STORY OF A GEORGIAN EXPERIENCING FOOD INSECURITY
GET THE LATEST NEWS
Subscribe to our Fresh Food Press to receive resources and updates about the local food movement.