REAL STORIES OF GEORGIANS IMPACTED BY FOOD INSECURITY AND WWG
Stephanie Baquetti
Mableton, Georgia
Fresh For Less Participant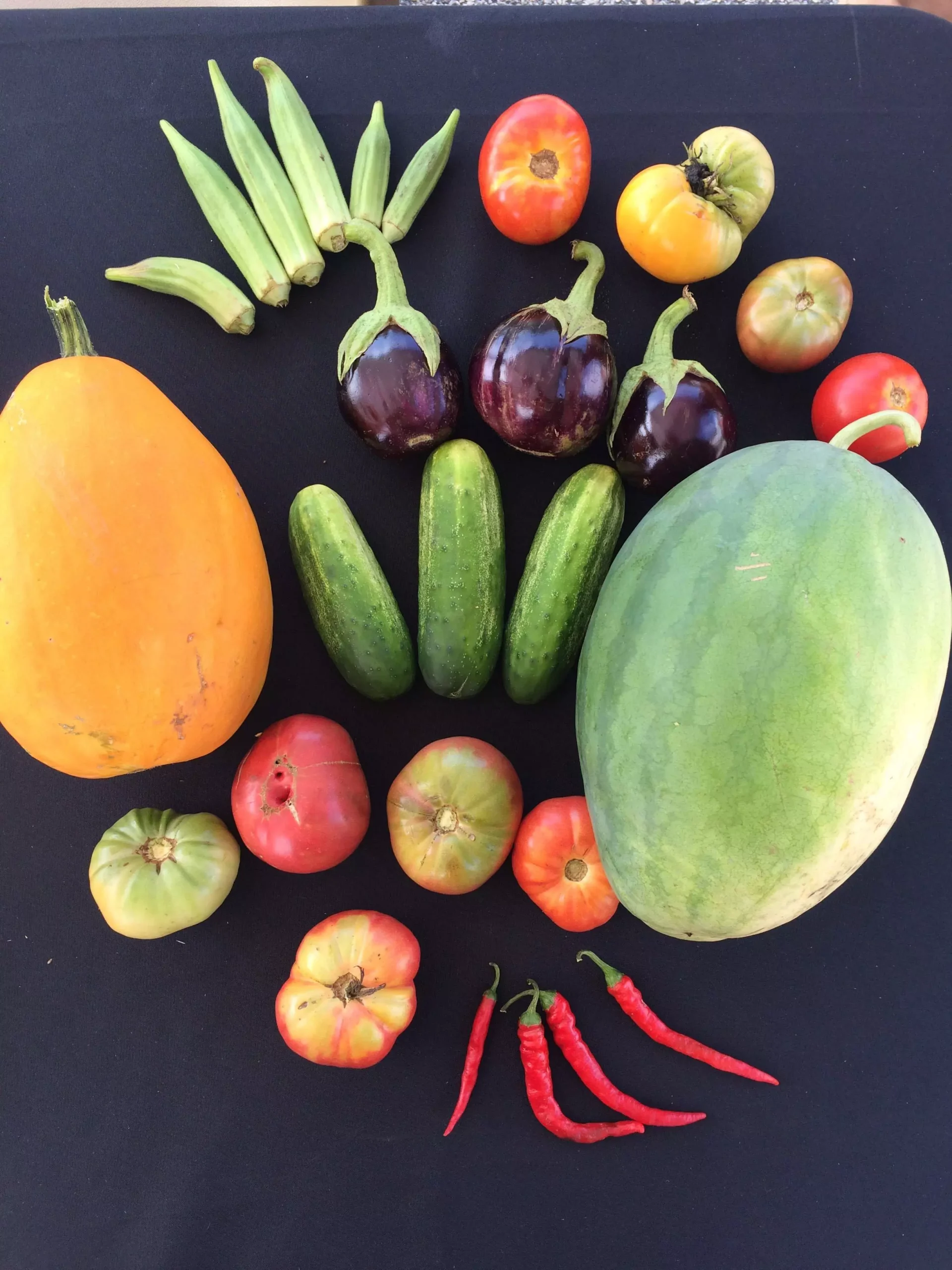 Fresh produce purchased by Georgia Fresh For Less participant Stephanie Baquetti at Mableton Farmers Market.
Activist. Community leader. Gardener. Teacher. Mother. These are just some of the hats that Stephanie Baquetti has worn throughout her life. Her passion for nutrition and food justice began as an elementary school teacher; she personally made it her mission to feed her young students healthier breakfasts and lunches when she saw the sugary cereals and lack of fresh fruits and vegetables on cafeteria menus.
Stephanie also started a community garden in her hometown of Marietta, engaging community members and volunteers in the local food movement. "You just can't believe what a change you can see in people when they start getting their hands in the dirt and they get grounded in nature and their food," Stephanie says.
Stephanie is also familiar with the relationship between food and health on a more personal note. "I'm very concerned about the hunger issue," Stephanie emphasizes, "I almost died of starvation multiple times because of being bed-ridden with over two dozen illnesses." She has been battling numerous diseases and allergies, all exacerbated when she cannot feed herself good, nutritious food.
As a single parent, it was also a struggle to put enough food on the table for her and her son, who has special needs. Despite her family's need for food assistance, she went through "nightmares of years trying to help him and herself."
Just being approved for SNAP was difficult for Stephanie, but once she and her son were approved, things started to change. The Fresh For Less program has allowed her to get almost all of her fresh produce from the farmers market, rather than relying solely on food pantries as her source of food.
"I have enough food to eat and I feel better," Stephanie says. With the collard, kale, and chard she now buys, she can make green juice that "tastes good, is healthy for you and doesn't waste money."
SNAP and the Georgia Fresh For Less program have even allowed her community to be that much healthier. Seeds purchased at the farmers markets and seeds saved from the fruits and vegetables have been planted in the community garden by Stephanie. This cycle of growing and seed saving has turned into seed giveaways for neighbors, friends, and volunteers.
"Sometimes it takes just one little spark," she says, "and it helps when people become farmers and I know those farms are going to feed more people." Stephanie has been that spark for her community and will continue to be an inspiration for others to advocate for their own health and well being.
The story was contributed by Marisa Kanemitsu.
MORE STORIES
CLICK EACH IMAGE TO UNCOVER THE STORY OF A GEORGIAN EXPERIENCING FOOD INSECURITY
GET THE LATEST NEWS
Subscribe to our Fresh Food Press to receive resources and updates about the local food movement.