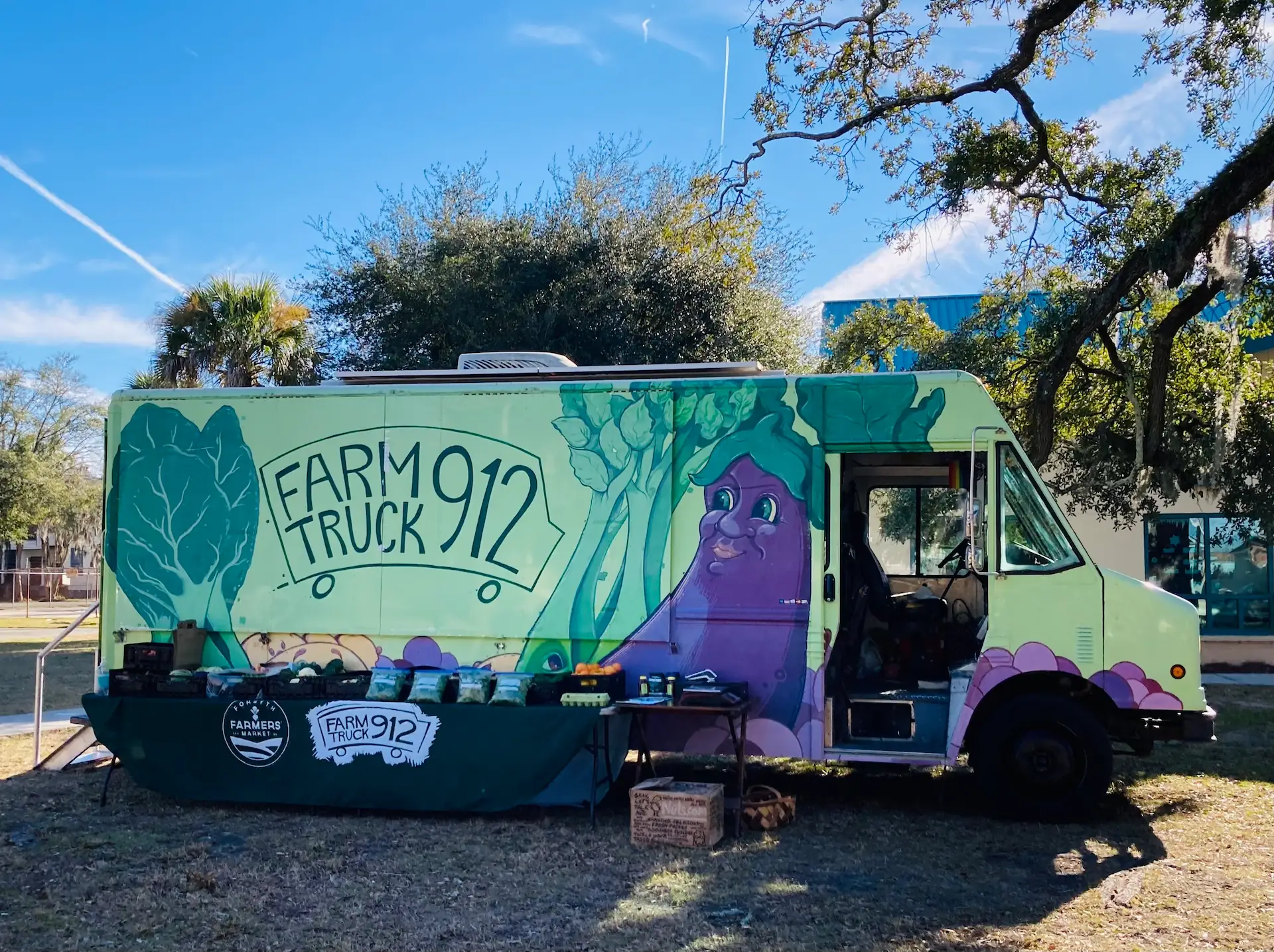 Eager to explore new ways to provide technical and other support to Georgia's mobile markets, Wholesome Wave Georgia's Moira O'Neill virtually attended the Mobile Market Summit hosted by Veggie Van Training Center in Buffalo, NY. Moira explained that the summit brought together all kinds of mobile market owners and supervisors from across the United States to share what they do, learn practical tips, and network.
"It can feel really powerful to be around other people who understand the work," said Moira. Moreover, "Everyone at this conference was focused on food justice and food access. They started a mobile market because they want everyone to have access to fresh, local food. That was really impactful for me to hear."
She describes that mobile markets "can look different depending on the model," like a school bus outfitted as a small store or a van with popup stands. "Instead of being in one place, it brings the produce around to different areas of a city or region so that people who don't otherwise have access to fresh produce have the ability to purchase it."
Wholesome Wave Georgia hosts an annual Network Gathering that brings together Georgia farmers, farmers market supervisors, and mobile market owners who partner with WWG's Georgia Fresh for Less. Tiffany Terrell of A Better Way Grocers – a mobile grocery store in Albany, GA (here on Facebook and Instagram) – attended this year and exclaimed, "I had no idea there were so many mobile markets!" in Georgia.
At the Mobile Market Summit, Moira was impressed that, "…so many who shared about their mobile markets were really intentional about taking in community input and doing community needs assessments before bringing their mobile market to a new neighborhood or area of town. I heard some really cool stories" about the creative ways community members were included. 'Success for all' was an overarching theme.
Tiffany echoed those thoughts. She described "not feeling so alone in this work." Knowing "like minded people" means she can "float ideas and learn about new ones," like how to partner with Albany's Phoebe Hospital or starting a community ambassador program.
Moira was surprised to learn that many mobile markets can't function on the profits from selling the food alone, the way farmers markets typically can. A key point is to sell at an affordable price, not just make the food available. Most need outside funding such as donors and sponsors, so they learn how to fundraise.
Jeb Bush, recently retired Executive Director at the Forsyth Farmers Market (here on Facebook and Instagram) describes multiple means of securing funding for the Farm Truck 912 mobile market. Fundraising has been integral to their success, from a CDC REACH grant to reduce health disparities by increasing food access and hiring a nutrition educator, to the GusNIP program grant (formerly a FINI grant) from the USDA to fund their Food Farmacy program, to a "huge capital campaign" and a grant from Gulfstream to allow them to refurbish and paint a former Wonderbread truck to be the new Farm Truck 912.
Tiffany took a very personal path to starting A Better Way Grocers. As a concerned community member, she attended a 2017 conference about food access and returned on fire to help alleviate food insecurity. "When I came back from the conference, [my husband and I] jumped right on it!"
The Terrells and Tiffany's grandfather and parents initially self-funded the project, so it took time to organize. Their market is "in a school bus. We took out all the seats and retrofitted it with coolers, freezers, and shelves," and they drive it into areas where families lack transportation.  Like Farm Truck 912, A Better Way Grocers accepts donations and partners with at least ten nonprofit organizations to fund their work.
Moira captures how a Wholesome Wave Georgia partnership allows a mobile market to thrive. "When people talk about wanting to supplement the cost of the produce – but where is that funding coming from? It's really awesome when markets partner with us from the get go because it makes it possible to offer that incentive and that discount."
Tiffany agrees completely. "They are awesome!" she raves. "The fact that we can turn [shoppers']  $16 into $32 to feed their families is just amazing. They look forward to being able to shop on the bus. Their loyalty to us allows them to purchase more, and it speaks volumes about the program. Wholesome Wave Georgia gives people the encouragement to try things they wouldn't necessarily try before the discount. That was a big win for us for produce that typically wouldn't sell."