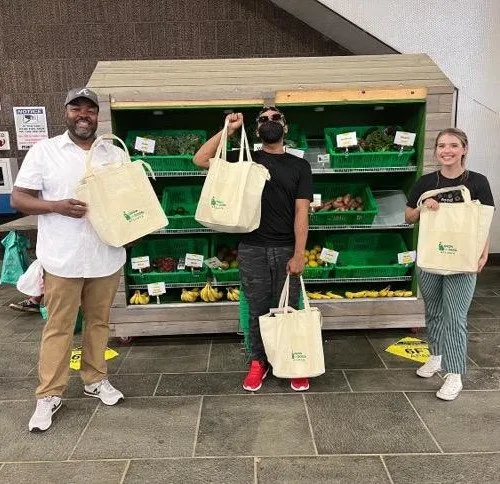 Our biggest partner in making fresh, healthy, locally grown food affordable and available for all Georgians is the United States Department of Agriculture (USDA).
Public funding enables Wholesome Wave Georgia (WWG) to bridge the gap between our local farmers and families that shop with SNAP/EBT, also known as food stamps, to double their purchasing power for fresh fruits and vegetables.
In the past couple of years, WWG also worked to unlock support from governing bodies in the state of Georgia.
In 2021, we met with the Georgia State Senate Study Committee on Improving Access to Healthy Foods and Ending Food Deserts to present information about our work to increase nutrition security. Our testimony helped to create the Georgia Food Insecurity Eradication Act, which passed in 2022.
Last year, WWG worked closely with the City of Atlanta to study food insecurity and better understand residents' experiences using SNAP. In partnership with the American Heart Association, we met dozens of folks who shared their stories with us:
"[Wholesome Wave Georgia's Fresh for Less program] is great for our economy, and we're going to see less ailments and health issues."

"The general public or society as a whole looks at SNAP/EBT users as uneducated and that is totally not the case. There are people using the SNAP/EBT program that have two or three degrees."

"I'm going to shout out one of my favorite farmers markets in the City of Atlanta, the Fresh MARTA Market, located at several MARTA stations. I absolutely love the structure of this farmers market."
These insights led to a partnership to improve nutritional access for all City of Atlanta residents, thanks to a donation from Mayor Andre Dickens and his partners in Atlanta City Council.
In the last few weeks, WWG created a working group made up of residents, retailers, and farmers in Atlanta, to establish connections between growers and retail outlets to source and sell more locally grown produce. We also announced a grant for farmers markets and retailers to improve their operations, infrastructure, or outreach.
WWG's City of Atlanta work is being led by our new Atlanta Local Food Systems Fellow Trinity Harrison, as well as Community Food Ambassador Mike Rouse and Georgia Fresh For Less Manager Alex Duncan.